The smart way to plan your crops in minutes.
See the most important information about your planting, production, and revenue at a glance. Let us handle the tedious calculations so you can focus on growing healthy food and soil.
Buy now for $9 risk-free with our 30-day money back guarantee.
Get started today. All you need is Microsoft Excel. No separate app to install or learn. If you are not gaining valuable insights about your business, let us know within 30 days and we will give you a full refund, no questions asked.
So easy to use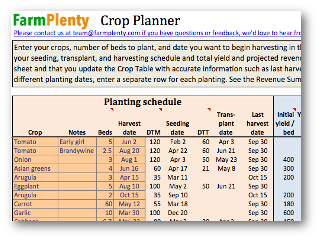 Just enter your crops, number of beds, and desired harvest date and let the spreadsheet do the rest. Instantly see the production and revenue impact of changing your crops or harvest dates. No more tedious pencil and paper calculations.
Fully customizable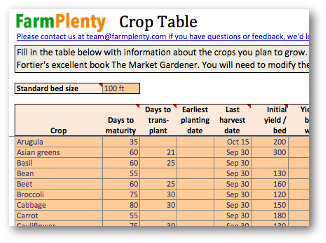 Customize the Crop Table sheet for your local growing conditions and market. It's just an Excel spreadsheet so it's easy to understand where the numbers come from. Test out different yield and price assumptions to so how they impact your production and revenue.
Business insights at a glance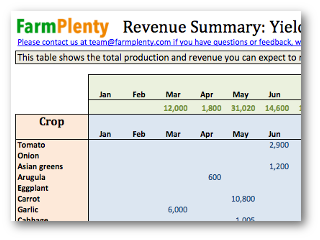 See your monthly production and revenue charts at a glance. Plan your CSA subscriptions and market produce. Determine which crops are most profitable for you.
The right solution for small farmers like you.
We know it's not easy being a small vegetable farmer. At the start of each season you have to plan your seeding, transplanting and harvest schedules, figure out what to provide your CSA customers, and make sure that your business is making money. At FarmPlenty we want to help small, sustainable farmers like you plan and keep records so you can focus on what you do best: growing healthy food and soil.
We looked at the available crop planning tools and found that they were all too hard to use. Many crop planners are bundled into complicated and expensive apps that make unreasonable assumptions about your farm. We talked to urban farmers, intensive vegetable growers, and other small farmers to create a better crop planning solution. We provide our Crop Planner as an affordable easy-to-use Excel spreadsheet that automates all the tedious calculations and provides clear reports that tell you all you need to know at a glance. No separate app to install and you can easily customize it for your own conditions.
Buy our Crop Planner Microsoft Excel spreadsheet now for only $9 and you will get:
Crop Planner worksheet with seeding, transplant, and harvest schedules and monthly yield and revenue projections per planting for up to 200 plantings.
Revenue Summary worksheet with production and revenue projections by crop and by month. Instantly see graphs showing which crops provide the most revenue.
Crop Table worksheet with maturity and yield information for 29 different crops, customizable for your own growing conditions. Add up to 200 different crop types.
Working examples to help you get started right away.
And if that's not enough for you, the spreadsheet is fully customizable and unlocked so you can modify and use it for as long as you like.
Contact us at team@farmplenty.com if you have any other comments or questions, we'd love to hear from you!